The Premium One-Step Hair Dryer and Volumizer is truly a revolutionary product! Think about the last time you had to untangle and style your hair… how long did it take? What if we tell you that this tool that can make you do it in half the time!

BENEFITS:
Less than 10 minutes!  From Wet Hair To Perfect Hairstyle.
Power of a Dryer, Volume of a Styler 
The 2 In 1 Hair Dryer & Volumizer is designed to deliver gorgeous volume and brilliant shine in a single step. 
Less Time, Less Damage
Dries and volumizes in on step for less heat damage and beautiful full bodies results.The unique oval brush design quickly creates volume at the root and beautifully full-bodied curls at the ends in a single pass, for salon blowouts at home.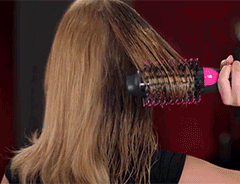 Ionic Technology
Negative ions saturate the airflow to reduce the size of water droplets for faster drying. This helps condition, smooth and make hair shinier, while reducing frizz and static.
Frizz-Free Blowout & Shine In Up To Half The Time!
The one-step hair Dryer and volumizer is a revolutionary 2-in-1 styling tool that puts the 
Power of a Dryer and volume of a styler in your hands.
FEATURES:
MULTI-FUNCTION HAIR DRYER BRUSH: A perfect combination of a hair dryer and a styling comb, allowing you to dry your hair easily while smoothing your hair

SAFE &RELIABLE: Negative ion styling hair dryer, can directly contact the hair, scalp, dry hair more quickly, saving time and electricity

HAIR STRAIGHTENER + CURLING IRON: Suitable for wet hair and dry hair, can be straight hair, can also be curly, one step in place to design the hair style you want

SMOOTHES DAMAGED HAIR: Effectively reduces flyaway, frizz, and static. No longer have to worry about hair entanglement

2 HEAT SETTINGS PLUS COOL HAIR STYLES: HIGH HEAT for thick hair, LOW HEAT for fine/damaged hair and COOL SETTING to set hair styles. Compatible for all hair types.
 Easy, now you can achieve Salon Quality hair styling at home in under 15 minutes! In the end, when you are on the go and need to style your hair quickly and professionally, this will be your go to tool!